If your workplace wants to host or organise the best Christmas activities around, it's going to require more than a few wine bottles and fairy lights. Elevate your festivities with our comprehensive guide to Christmas activity ideas, featuring our top London picks, office party ideas, at-home activities and unique pastimes to make this year's the best one yet. Enjoy the inspo, then get ready to arrange the merriest activities ever featuring a few of our incredible experiences.
Work Christmas Activity Ideas
It's that time again. The responsibility has fallen to you to plan a few work Christmas activities that everyone will love. Don't panic – we've collated our top picks from our corporate gifts to wow your team.
Take on I'm a Celebrity
When it comes to work Christmas activities, it's all about getting a few members of the team together for new experiences. Hidden within your team, you're sure to have a few fans of the hit ITV show, I'm a Celebrity and with Manchester's latest attraction, a lucky few from the office can race against each other to collect stars in a mix of fun and exciting challenges.
Plan a Christmas treasure hunt
Those who don't want to get dolled up for a formal festive soiree can get a little exercise by hosting a treasure hunt. Craft the clues to feature highlights around the office or go big and send people on an adventure around the surrounding area. There's plenty of resources on the Internet too with holiday-themed ideas for that extra inspiration.
Team-build your way through an escape room
In case you hadn't already noticed, we're big fans of alternative Christmas parties. Guaranteed to be more memorable than a run-of-the-mill bash, escape rooms are sure to offer an outing with a difference. We're particular fans of The Grid's Save Humanity offering, where brain-scrambling puzzles, multiple rooms and a selection of sci-fi cocktails are just a few things to expect.
Organise a Secret Santa
A tradition as old as time, but rarely turned into the showpiece during the Christmas festivities. The premise is simple: add all the names of the office into a hat and each person draws a name out. That person then has to buy a secret gift for the name. We've got all kinds of Secret Santa gifts if you're struggling for ideas.
Head behind bars
Hidden in four of the UK's most popular cities, Alcotraz will definitely have a bit more of an edge than your average after work drinks. Forget the classy black tie dress code and get kitted out in an inmate's suit. It's BYOB, and you'll need to be stealthy to get it past the warden, but once successful, the inmates will mix you up cocktails like pros.
The Big London Bake
Whether you want a rematch after the office Bake Off or you never got round to organising one, The Big London Bake has all the ingredients you need for a great Christmas activity. There are 12 baking stations in the marquee and just 90 minutes to whisk, roll and drizzle your way towards a winning bake.
Have a cracker of a time with iFly
Set the bar high for all future Christmas activities and finish the year with a bang, courtesy of iFly. The closest experience to getting thrown out of a plane without actually doing so. With two flights each, participants will be suspended in mid-air by a 120mph air stream for the same amount of time as three tandem skydives. Gear hire, supervision throughout and a flight certificate are all included.
Belt some Christmas carols
Is it just us or does every office party somehow end in karaoke? Why not buck the norm and start the night with a karaoke night. There's plenty of venues across the country that'll let you hire a room for a few hours, select your songs and enjoy some seasonal refreshments. All that's to do is sing your hearts out!
Eat, drink and bowl
When it comes to bowling, there's nowhere better to spin a few pins than at All Star Lanes. Whatever your budget, there's plenty of Christmas packages and a wide array of locations to choose from too. With cocktails and classic American dining covered, it's sure to be a night to remember.
Go Karting
If the office are petrol heads or hardcore Formula One fans, this is a winning work Christmas party idea. TeamSport are the UK's #1 for indoor karting, offering numerous events from exclusive track hire to private catering and beyond. If you're after a party with a healthy dose of adrenaline, this is the answer.
Christmas party ideas in London
If there's one thing the capital knows how to do, it's to have fun. And when the holiday season hits, London brings out the best activities to help you celebrate in style:
Make some pizza
If you and the gang are foodies, this show-stopping, dough-tossing, pizza-making extravaganza at Covent Garden's Bunga Bunga is a chance to add some Italian flair to your Christmas activity plans. You can enjoy a welcome drink along with authentic Italian antipasti, before getting your hands on the top-secret Bunga Bunga pizza recipe. The drinks keep flowing as the party gets going too.
Don't talk about the Flight Club
Is there a better way to celebrate the holiday season than with a bit of healthy competition? Gather your opponents and make your way over to one of four London Flight Club venues, where a myriad of dart activities awaits you.
Paint some festive pictures
Paint and Sip events are taking the world by storm and as soon as December hits, they really step into their element. The perfect blend of creativity and conversation, the Brush Party team will guide you as your blank canvas transforms in just 3 hours. With great company, great drinks and great music, what else could you want from a great Christmas activity?
Join the Home of Ping Pong
The home of Ping Pong, Bounce is always a popular choice during the holiday season, especially for sports fans. Each of the two venues has a quirky characteristic – the 1820s gin palace of Farringdon and the private playroom at Old Street. Visitors can enjoy an array of activities including old-school ping pong, wonderball, beer pong, shuffleboard and more.
Hit a hole-in-one
Crazy golf, some of the capital's best street food vendors and world-class cocktails – what more could you ask for? This is some serious game for your Christmas activity plans, so rally up a couple of the troops and get ready for the ultimate day out as you hit up London's Swingers in the City and West End.
Get cosy at The Montague on the Garden
Bring the luxury of the Alps to your Christmas activities with this cosy ski lodge in the heart of the capital's bustling West End. The Montague Ski Lodge has it all with mulled wine, festive food, a DJ and a disco. Not to mention the strings of fairy lights and lanterns make the perfect backdrop for all your Instagrams.
Redefine Christmas board games
There's always a colossal moan when the dust-infested board games are dug out of the cupboard for their once-a-year appearance. This year, why not redefine board games with Monopoly LIVE. A life-sized version of the popular board game, choose our own experiences to be enjoyed for two people or contact the venue directly for private hire which can include the option to hire out four boards which can accommodate up to 24 guests for some innovative game play and bonding.
Transport yourselves to the Alps
While a romantic getaway may be a little extravagant for any Christmas activities, you can still enjoy a spot of escapism at Shoreditch's Alpine rooftop bar Queen of Hoxton. Immaculate ski après vibes awaits in the form of heated seats, cosy blankets and rum cocktails.
Race against the Crystal Maze
Maybe you watched the Christmas special back in the day, or you just wanted an excuse to embark on the Crystal Maze's most immersive experience yet. Prepare for running, yelling, exciting challenges and even donning some sensational satin bomber jackets.
Get competitive
The TOCA Social is the perfect venue to host your Christmas party, with a capacity of up to 170 people. Located just inside the O2, the world's first interactive football and dining experience with seven playing boxes in addition to premium food and beverages.
Hosting a Christmas activity at home
Christmas activities don't always have to be outside. If the weather isn't enticing enough to go outside in, there's plenty of ideas below to help keep the festive spirit alive indoors:
Get ready to cook on Christmas
Why not get your chef skills ready for the big day with a Jamie Oliver hands-on virtual cookery session. Sign up for one of the live, interactive digital classes and those involved will receive a recipe card and prep sheet. During the class, helpful chefs will walk the party through the recipe steps and cook simultaneously, answering any questions.
Have a gingerbread house competition
There's no better time than the holidays to indulge in one of the best Christmas desserts: gingerbread houses. Show off your decorating skills with a friendly gingerbread house-making competition. Whether you buy pre-made houses or make your own, compete against each other to see who can design the most ostentatious creation.
Host a wine and cheese tasting
Cheers to the festive season by hosting a wine and cheese tasting in the comfort of your own home. The perfect excuse to catch up with your colleagues over a glass of wine or two, industry professionals will virtually guide you through the tasting. Receive five wines and cheeses in advance, ask questions and get involved throughout the session.
Bring Cluedo to life
This year, forget the game of Cluedo and instead gather your trusted team of accomplices and work against the clock to unravel the identities of two killers in a virtual escape room. Follow the scent via a series of audio and video files, navigating a selection of thrilling and fiendish puzzles in just 60 minutes.
Organise a gift exchange
A classic gift exchange game that small to large groups love to play during the holiday season is White Elephant. Ahead of time, each player must buy a wrapped gift to contribute to a general gift table – the idea is that the gifts are amusing and impractical. Each participant then chooses a gift from the table one by one but has the alternative option to steal another's gift. The game ends when there aren't any gifts left on the table.
Let the celebrations be-gin
Gin tastings don't have to mean leaving the house anymore, thanks to Shakespeare's Distillery. Join in to indulge your inner gin connoisseur, with an online masterclass providing tips and tricks from a professional mixologist. Three premium Shakespeare Distillery gin bottles and Fever Tree tonics will be delivered straight to each recipient's door, coupled with gin-infused chocolate truffles. It's guaranteed to get everyone in the spirit of the holiday season.
Play Christmas Charades
There's something about Christmas that re-ignites everyone's love for nostalgic games. Organise a festive round or two of Christmas charades for your lucky co-workers and act out some of your favourite holiday activities. We're talking about things like ice skating, having a snowball fight, decorating a tree and more.
Bring happy hour home
We're accustomed to our favourite bars hosting happy hour parties, but there's no reason you can't take inspiration from the idea and host your own at home or in the office. Much less effort than a full-on dinner party, keep things simple and let Tipsy Parties do all the hard work. Fully mobile, bartenders will set up equipment, glassware and ingredients in your chosen space ahead of the 90 minute class. Kick things off with a cocktail demonstration before getting hands-on making three cocktails each.
Fill some stockings
Stockings actually incite a myriad of different activities. One idea will see hosts fill up Christmas stockings with odd objects and have each member of the team guess what is in the stocking. Others see people buy things for each other based on a certain category e.g. something to eat, something to drink, in a fun take on the Secret Santa game.
Unique and unusual ideas
With a few years of battling virtual celebrations behind us, it's time to get creative and come back to fun Christmas activities with a bang. We've rounded up some of our favourite unusual experiences to make this year's the best one yet:
Crack codes at Cahoots. Hidden under the bustling streets of Soho, put mental deduction skills to the test at Cahoots. Kick things off with a welcome cocktail, before racing against the clock to solve puzzles, discover allies and uncover recipes to save the bootleggers' operation.
Watch a Theatre production. Christmas is always a popular time to head over to the west end. Prime seats, welcome drinks and a two-course meal is the best way to make the most of a trip to the theatre, especially when your recipients can take an electrifying journey back in time with Doc Brown and Marty McFly.
Travel to the Wild West. Continuing the trend that Christmas activities are about so much more than just your average cocktail night, Moonshine Saloon transports visitors to the rugged Wild West. Toast with personalised cocktails, play card and dice games with the local characters in the Saloon and more.
Channel your inner Vikings. Sink some steel in Game of Throwing's thrilling UV urban axe throwing experience. Head to their Hammersmith location to play mini-games and take part in a tournament, all on a private lane.
Shoot your boss paintballing. While this will almost certainly be branded as the most colourful Christmas activity yet, it's really just armed employees airing out their grievances with their colleagues over a classic game of paintballing.
Host an Employee Award Ceremony. Just like Dunder Mifflin in the hit TV series The Office, end the year on a high with a wild awards ceremony. Get flimsy A4 certificates printed out for categories like Best Joke, Most Flirty and so on.
Create some pottery. Another unusual Christmas activity idea is to try your hand at pottery. Many pottery shops offer festive-themed classes for both beginner and seasoned potters. With mulled wine and hot chocolate often on tap, this activity will add a little zen to the celebrations.
Ugly Christmas Jumper. There's a reason people go for the classics, and ugly Christmas jumper competitions are the perfect example: great entertainment, the chance to win a prize and some pretty epic photos are all what you can expect when it comes to this Christmas activity idea.
Experience the latest tech sensation.
All the best unique Christmas activity ideas are about doing something new: enter the mind-bending world of VR. Across 60 minutes of gaming time, recipients will have access to more than 40 games on offer, including 10 multiplayer. Nothing like virtually saving the world before braving Christmas shopping.
Have a potluck party.
The holiday season is stressful enough without lumping the poor HR manager with the responsibility of organising everything. The best thing is you can make the theme whatever you want - Christmas dishes, food from everyone's favourite country and so on.
Summary
Once the fun of the Christmas activities are over, the daunting task of Christmas shopping may start to weigh down. That's where our jam-packed collection of Christmas gifts will come in to save the day. Look no further than our fantastic and super-flexible Virgin Experience Days Gift Card that will allow your hard working employees' or your loyal customers to select their own unique experience from over 3000 located all across the UK. Maybe even use these gift cards as a table gift for each guest at your end of year party?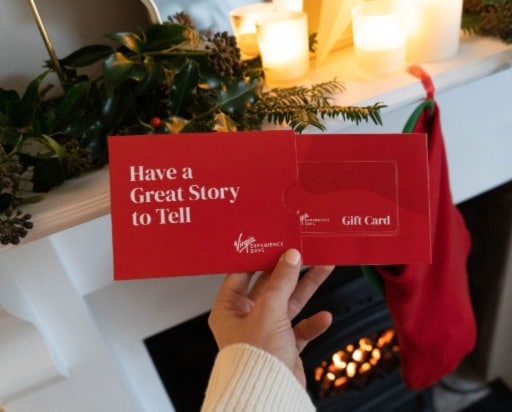 Get in touch with us to find out how we can help support your business needs this Christmas: